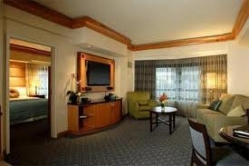 UNSURPASSED LUXURY IN EXCITING NEW YORK CITY!
The Hilton Club-New York is located in the heart of midtown Manhattan – a perfect vacation address in the "Big Apple". Situated on two high rise floors of the beautiful Hilton New York, The Hilton Club-New York allows you the convenience of a hotel while residing in the luxury of a home away from home.
Your accommodations – whether the studio, one bedroom or two bedroom suite - is beautifully decorated and well equipped to provide you the comforts and necessities during your stay. You'll appreciate every detail of luxury….the high definition plasma screen TV and the Bose entertainment system.
Some of New York City's most notable treasures are within the surrounding blocks of the Hilton Grand Vacations Club Hilton-New York. The signature shops of Fifth Avenue are but a block away. Rockefeller Center is east, and just west, the dazzle and glitz of Broadway. The treasure of New York City, Central Park is directly north, and immediately south is historic Radio City Music Hall. Nearby, Lincoln Center offers compelling cultural performances. Just a couple of blocks and you'll be on Madison Avenue. Eateries, boutiques, entertainment can be found in all directions.
From Times Square and the Statue of Liberty to the local headquarters of world-class business and media enterprises ...The Hilton Club-New York places you in the heart of the City.
Best of all, Hilton timeshares are incredibly flexible. Timeshare ownership within Hilton Grand Vacations Club provides owners with easy access to a vast network of Hilton timeshare resorts; while Hilton's affiliation with RCI means Hilton timeshare owners have access to RCI's more than 3,700 resort destinations worldwide.
Timeshare Broker Sales is a licensed REALTOR and a BBB Accredited Business. We are timeshare resale and rental specialists and experts for Hilton Grand Vacations Club resales. Contact us today Toll Free at (800) 985-9946, with any questions or to buy Hilton timeshare at this deluxe resort, and see what our clients are raving about!
Hilton Grand Vacations Club Hilton New York
1335 Avenue of the Americas New York, New York 10019