Wyndham Ocean Boulevard Timeshare Resales
Buy Myrtle Beach Timeshare at this Oceanside Wyndham Resort
Located in the beloved Cherry Grove area of North Myrtle Beach, Wyndham Ocean Boulevard (Formerly Fairfield Myrtle Beach at Ocean Blvd) is the perfect family-friendly beachside resort.
With award-winning Art Deco inspired design, generous and luxurious amenities, and friendly and helpful staff, this Myrtle Beach timeshare is both incredibly luxurious and ideally situated close to many of Myrtle Beach's most popular attractions.
Onsite Amenities at Wyndham Ocean Boulevard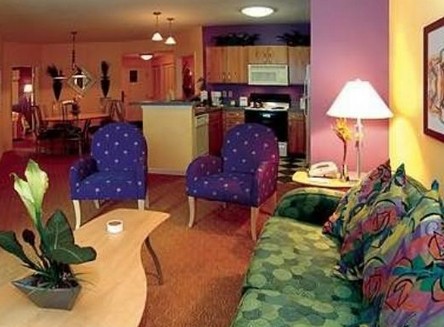 Onsite, owners and guests enjoy a number of luxe amenities and services, including: easy beach access; 3 outdoor swimming pools (including a rooftop pool); 1 outdoor children's pool; 2 indoor hot tubs; 6 outdoor hot tubs; a game room; fitness center; playground; and "play days" activities program.
Wyndham Ocean Boulevard also offers oceanside towers (except Tower IV) and 24-hour secured and covered parking for most vehicles and motorcycles (trailers and RV's excluded).
Accommodations at Wyndham Ocean Boulevard
Wyndham Ocean Boulevard's award winning art-deco designs and furnishings extend into each and every suite, creating a modern yet comfortable atmosphere that perfectly complements Myrtle Beach itself.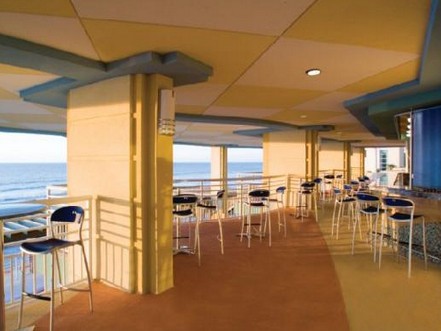 Owners and guests have their choice of one, two and three bedroom units that include: air conditioning; full kitchens; separate dining and living areas; whirlpool tubs; flat-screen TV's; private balconies and free WiFi. Two bedroom units also include an in-suite washer and dryer and two queen-size pull-out sofas.
Things to Do at Wyndham Ocean Boulevard
Owners and renters love Myrtle Beach for its near perfect weather and myriad outdoor activities. With beautiful beaches, fun water sports, hundreds of great golf courses, delicious foods, exhilarating amusement parks, amazing shopping and sophisticated nightlife, you'll find something for everyone in Myrtle Beach.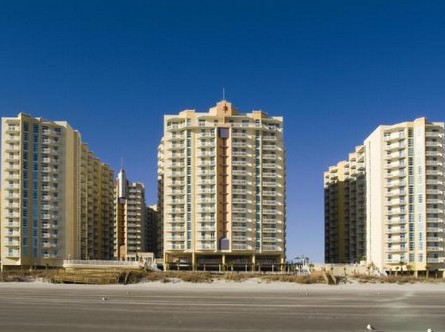 Families will love spending a fun day at nearby Wild Water & Wheels water and theme park or Family Kingdom Amusement Park – home to the largest wooden roller coaster and Ferris wheel in South Carolina.
Wyndham Ocean Boulevard is affiliated with RCI. For more information about this great Myrtle Beach timeshare opportunity, or to learn about our Wyndham timeshare rentals in locations like Myrtle Beach, please contact us today.
Timeshare Broker Sales is a licensed timeshare broker, an ARDA recommended broker, a member of the LTRBA, and a BBB accredited business. So don't hesitate to give us a call today, and see what our clients are raving about.