Park City Timeshare Resales and Rentals
Park City is a haven for the cultured outdoor enthusiast. Make this gorgeous mountain town your home away from home with a Park City timeshare resale. Timeshare Broker Sales can help you save thousands!
Though Park City is most popular during the winter months, this unique vacation destination, set high in Utah's Wasatch Mountains, provides four-seasons of stunning natural beauty and recreation. From dry, deep powder in the winter to summer's verdant forests and fall's breathtaking foliage; Park City timeshare owners enjoy crisp mountain air and unspoiled wilderness year round. Everyone in Park City seems to glow with the healthy buzz of outdoor recreational enthusiasm.
Most people know that Park City boasts some of the world's best downhill skiing and riding, but the area is also home to a host of other chic activities and exciting outdoor adventures. A Park City timeshare is the best way to immerse yourself in the fresh air, natural beauty and nostalgic charm of this unique mountain town year after year.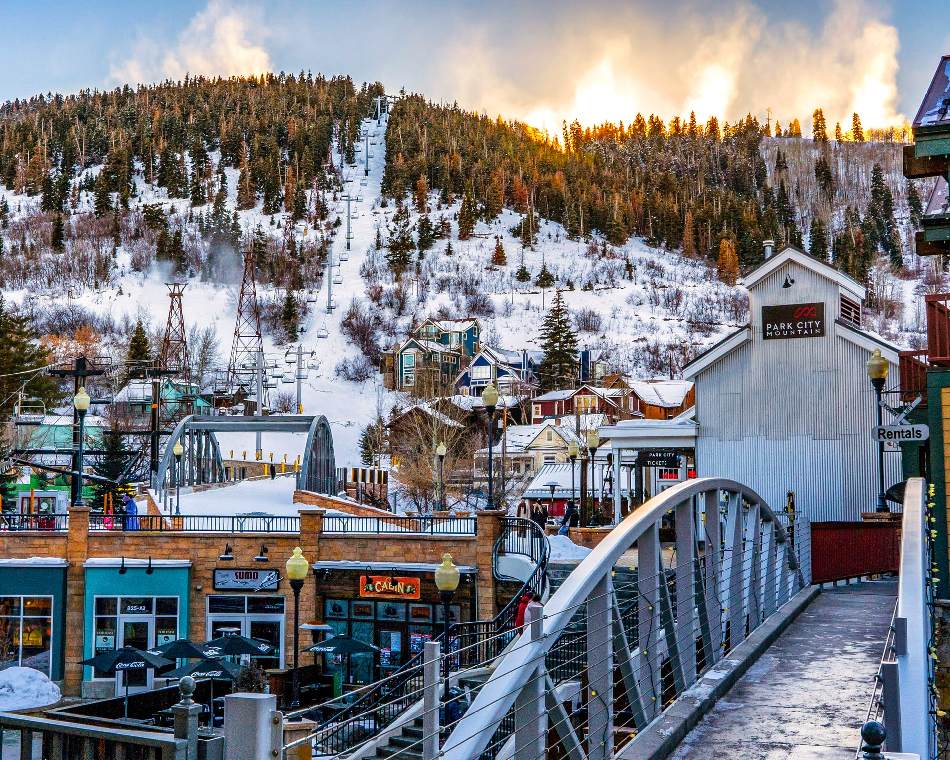 Park City: a Haven for Outdoor Activities
Vacationers enjoy cross-country skiing on more than 3,300 acres of perfect powder trails, or exploring the Utah Olympic Sports Park – home to the 2002 Winter Olympics' bobsled, luge, skeleton and ski-jumping competitions (and currently offering rides and lessons!). Today, vacationers and locals enjoy hiking, biking and horseback riding though Soldier Hollow Nordic Park, the old Olympic venue for cross-country and biathlon events.
In warmer months, Park City timeshare owners can swim, picnic or sail in the mountain reservoir at Rockport State Park, or explore Antelope Island State Park, home to wild American Bison, antelope, birds and more.
Golf is also a popular activity during spring, summer and fall. Park City is home to a number of challenging golf-courses, all set against the backdrop of the stunning Wasatch Mountains.
Shopping, Dining and Uniquely Sophisticated Culture
Shopping and dining in Park City are an experience all their own – with more chefs per capita than Paris, you'll find unique dining opportunities to satisfy any palate.
Park City's downtown is adorned with elegant Victorian architecture and diverse shops and art-galleries, making a day spent shopping feel like a cultural experience. Many vacationers especially enjoy hunting down antique treasures in the nearby Sugar House Shopping District.
Sundance Film Festival
Finally, film enthusiasts will want to plan their vacation around the world-famous Sundance Film Festival in January for the chance to encounter celebrities, filmmakers and documentarians as they mill about Park City and hit the slopes; some lucky owners can visit the festival themselves!
Timeshares for Sale in Park City
Because it's such a highly-desirable vacation destination, a number of hospitality giants have opened deluxe resorts in Park City. Marriott Vacations Club, in particular, plays host to two gorgeous timeshare properties in Park City.
Marriott's Mountainside: This stunning ski-in/ski-out Marriott timeshare is located adjacent to the world-class Park City Mountain Resort (the former Olympic venue) and boasts exclusive access to the Park City Mountain Resort PayDay Ski Lift.
Marriott's Summit Watch: Located in the heart of Park City, adjacent to the Park City Mountain Resort's Town Ski Lift, this beautiful timeshare affords owners quick, easy access to Park City' famous slopes.
Save Thousands with Timeshare Resales
Purchasing timeshare in Park City can be a great investment – you'll secure long-term accommodations on a budget. You'll also lock in current market-rates, protecting you from real-estate inflation as you continue to enjoy your Park City vacation property for years to come.
If you're considering Park City timeshare, don't shell out thousands of extra dollars to resorts. Buy your Park City timeshare on the resale market to save up to 60% off the resort prices.
When resorts sell timeshare (especially in highly-desirable locations like Park City), the price is often inflated to generate a massive profit. Purchasing from a licensed timeshare reseller, on the other hand, will allow you to save thousands, and bypass the aggressive sales techniques that many resorts employ when selling timeshare.
Choose Timeshare Broker Sales
If you're interested in purchasing a Park City timeshare resale, contact us today. We can help you save thousands on the purchase of your vacation property, while helping to ensure the buying process is as simple, and safe as possible. We believe in hands-on, personalized service, always taking buyer questions and helping clients understand timeshare basics so they can make an informed decision.
At Timeshare Broker Sales, we'll help you find Park City timeshare resales at major hospitality names for a fraction of what you might spend purchasing direct.
Finally, if you're not ready to buy timeshare but would still like to experience the resort-lifestyle on a budget, consider a Park City timeshare rental.
Timeshare Broker Sales is a licensed REALTOR® and a BBB Accredited Business. We are Park City timeshare resale specialists. Our licensed agents have insider knowledge regarding program intricacies, specific-resort information and exchange opportunities that our clients find invaluable when deciding which vacation property to purchase.
Contact us today Toll Free at (800) 985-9946 and see what our clients are raving about. There is a true difference in the personalized service we provide! Let us help you buy that perfect Park City timeshare, and see how much you can save.