Wyndham Ocean Walk Resort Timeshare Resales
Make Daytona Beach your fun home away from home with a timeshare resale at Wyndham Ocean Walk Resort
Located on a beautiful stretch of pedestrian-only beach in the heart of Daytona Beach, Wyndham Ocean Walk Resort is the perfect home base for enjoying everything this beloved area has to offer. As a part of the 80,000-square-foot Ocean Walk Village complex, this unique Wyndham timeshare resort is within easy walking distance of Daytona's most popular entertainment and activities.
Daytona Beach is famous for its sandy shores, excellent golf, fun attractions and, of course, the Daytona International Speedway. With the area's only traffic free beach and an array of outdoor activities, Wyndham Ocean Walk Resort makes an excellent Florida timeshare escape for families. Plus, it's just an hour from Orlando's many family-friendly theme parks.
Amenities at Wyndham Ocean Walk
This beachfront vacation resort in Daytona Beach offers exceptional amenities and comforts to help create an unforgettable family vacation or romantic getaway.
Resort amenities include: two outdoor swimming pools; two heated indoor swimming pools; a lazy river and waterslide; indoor and outdoor miniature golf; a state of the art fitness center with group classes; an activities center; a game room; and a coffee shop – just to name a few.
Many owners and renters find Wyndham Ocean Walk perfect for banquets or weddings because of the resort's gorgeous 250 person Grand Ballroom. For owner's convenience, there's also free parking or paid boat and trailer parking; a concierge tour desk, high-speed internet; and more.
Accommodations at Wyndham Ocean Walk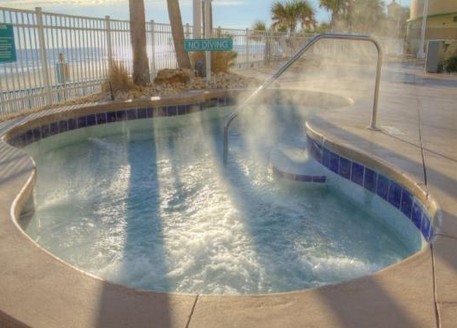 Wyndham Ocean Walk Resort offers 1, 2 and 3 bedroom condo-style accommodations, each with spacious living areas, fully equipped kitchens and washers and dryers. Many units feature a Jacuzzi tub in the master bedroom; and many two and three bedroom condos offer spectacular city-views.
Nearby at Wyndham Ocean Walk
We don't have to tell you about all the ways to enjoy Daytona Beach. But, here are a few things you can look forward to, should you decide to buy or rent at Wyndham Ocean Walk Resort: World class golf; exciting deep-sea fishing; amazing
shopping; thrilling water-sports (including scuba diving, snorkeling, parasailing, boating and waterskiing). And of course, let's not forget about NASCAR's Motorsports Attractions at Daytona International Speedway.
Wyndham Ocean Walk Resort is affiliated with RCI. For more information about this great Florida timeshare opportunity, or to learn about our Wyndham timeshare rental opportunities in Daytona, please contact us today.
Why Buy Timeshare at Wyndham Ocean Walk with Us?
Timeshare Broker Sales is a licensed timeshare broker, an ARDA recommended broker, a member of the LTRBA, and a BBB accredited business. What does that mean for you? It means ultimate reputability. So don't hesitate to give us a call today, and see what our clients are raving about.