Four Seasons Jackson Hole Fractional Share Ownership
Buy Part Ownership at Four Seasons Jackson Hole and Save Thousands
Nestled in the heart of the majestic Teton Mountains, Four Seasons Residence Club Jackson Hole is a tranquil mountain escape in Teton Village, Wyoming.
This Four Seasons fractional is a ski in/ski out resort boasting exclusive mountain access in one of the world's most highly regarded ski destinations.
With 4,139 vertical feet of terrain, 400+ inches of annual dry-powder, and more than 2,500 acres of ski-able land, Jackson Hole is renowned as one of the finest ski destinations in the world, yet caters to skiing and riding enthusiasts of all levels.
Available Listings
No Active Listings Found. Not to worry. We can help!
Take advantage of our worldwide network of licensed brokers, and current owners. Let us go to work for you and find that perfect timeshare vacation property that you and your family and friends can enjoy for years to come. Why spend hours on the web sifting through ad sites, with prices all over the place. We know where to find it, and get the exact timeshare resale you are looking for. We have you covered start to close, so all you have to worry about is booking that flight ticket! Remember that Timeshare Broker Sales are timeshare specialists, licensed real estate brokers, and a BBB Accredited Business.
PLEASE CALL TOLL FREE: 800-985-9946 and we can help
Onsite Amenities at Four Seasons Jackson Hole
Four Seasons Residence Club Jackson Hole features a number of luxurious onsite amenities and services.
The incredible ski-in/ski-out location is an obvious perk; but there's also onsite swimming, dining, fitness facilities, and a world class spa.
Outdoor Heated Pool & Hot-Spring Style Whirlpools
The resort's outdoor heated pool lets Four Seasons timeshare resale owners and guests swim amid mountain peaks beneath the expansive Wyoming sky year round, or soothe tired muscles in one of three outdoor hot-spring style whirlpools.
In summer guests can sunbathe on the beautifully landscaped deck while staff bring cool refreshments. In winter, Four Seasons attendants will bring heated towels and robes, warm peppermint-scented face cloths and complimentary hot chocolate and s'mores.
Onsite Casual & Fine Dining
Whether you're looking for a casual meal or elegant celebration, the Four Seasons Resort Jackson Hole has a number of restaurants and lounges to choose from.
The Lobby Lounge (known as the "living room") is comfortable restaurant and bar with sleek Western styling.
The Peak, directly accessible from the slopes, is the resort's café and après-ski bar with indoor or outdoor fireplaces and serving informal classic American fare.
The Westbank Grill featuring indoor and outdoor seating with prime mountain views. The elegant restaurant places particular emphasis on seasonal selections of grilled meat, game and fish.
Locally Inspired Spa & Salon
After a long day on the slopes, Four Seasons timeshare owners can rejuvenate in the resort's world-class alpine inspired spa.
Favorite services include the alpine berry body ritual and the hawthorn and mallow body glow treatment. Guests can enjoy massages, skin and facial care treatments and can finish their day of pampering at the salon.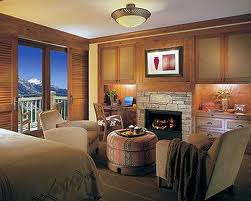 Accommodations at Four Seasons Jackson Hole
Two and three bedroom villas at Four Seasons Jackson Hole feature indoor and outdoor living spaces with a traditional stone fireplace, comfortable seating, comprehensive entertainment center, French doors with wooden sliding shutters and a spacious and fully furnished deck with mountain or pastoral views. 
Deep soaking tubs and marble furnishings make the bathroom feel like a luxurious spa; while classic Southwestern styling elegantly reflects local artisanal traditions.
Things to Do in Jackson Hole Year Round
Jackson Hole is located in the north-western corner of Wyoming in the middle of the pristine Greater Yellowstone Ecosystem
More than 97% of the lands in Jackson Hole are protected by state and national forests, national parks and land conservancies; surrounding Four Seasons Jackson Hole with stunning natural landscapes and expansive blue skies.
From dog-sled tours, sleigh rides, snowmobiling and heli-skiing in the winter months to air tours, horseback riding, bicycling, golf, rafting, fishing, kayaking, canoeing and mountaineering in the spring, summer and fall; there's always a way to enjoy the crisp mountain air of Jackson Hole.
If you would like more information about the Four Seasons Residence Club Jackson Hole, or if you would like to buy timeshare at this deluxe Four Seasons resort, contact us today.
Timeshare Broker Sales is a licensed realtor and a BBB Accredited Business. We are a full service timeshare broker specializing in Four Seasons timeshare resales and rentals.
Whether you're looking to buy, sell or rent timeshare with Four Seasons Residence club, we're here to help with every step of the process; from matching buyers and sellers to managing the complete timeshare transfer.
At Timeshare Broker Sales, we favor a hands-on, personalized approach to Four Seasons timeshare resales. Contact us today, toll free at (800) 985-9946, and see what our clients are raving about.
Amenities
On-Site · Air Conditioning (In Units) · Babysitting Referral · Bar/Cocktail Lounge · Car Rentals · Clubhouse · Cooking Facilities (In Units) · DVD or VCR (In Units) · Day Spa · Exercise Room, Equipped · Fireplace (In Units) · Laundry Facilities · Restaurants · Sauna or Steam Room · Swimming Pool, Outdoors · Television (In Units) · Tennis · Wheelchair Accessible · Whirlpool Spa or Hot Tub
Nearby· Bicycle Trails · Skiing · Golf · Grocery/Convenience Store · Nature Walks
Four Seasons Jackson Hotel
7680 Granite Loop Road
P.O. Box 544
Teton Village, Wyoming 83025