Four Seasons Resort Scottsdale at Troon North Fractional Sales
Enjoy Fractional Share Ownership with Four Seasons' Private Residence Club
Located in the heart of Scottsdale, high in the Sonoran desert, Four Seasons Resort Scottsdale at Troon North is the epitome of desert luxury.
Nestled at the base of Pinnacle Peak, the resort enjoys warm breezes, breathtaking landscapes, sun-drenched weather and world-renowned golf at famous Troon North Golf Club.
With sweeping desert views, Southwestern-style casitas and first-class attention to your every need, Four Seasons Resort Scottsdale at Troon North is one of the most popular Four Seasons timeshares available.
Available Listings
No Active Listings Found. Not to worry. We can help!
Take advantage of our worldwide network of licensed brokers, and current owners. Let us go to work for you and find that perfect timeshare vacation property that you and your family and friends can enjoy for years to come. Why spend hours on the web sifting through ad sites, with prices all over the place. We know where to find it, and get the exact timeshare resale you are looking for. We have you covered start to close, so all you have to worry about is booking that flight ticket! Remember that Timeshare Broker Sales are timeshare specialists, licensed real estate brokers, and a BBB Accredited Business.
PLEASE CALL TOLL FREE: 800-985-9946 and we can help
Onsite Amenities and Services
Access to Troon North Golf Club
Regarded as one of the top golfing destinations in the world, Scottsdale is a golfer's paradise. And Troon North is the jewel in the crown of Scottsdale's courses.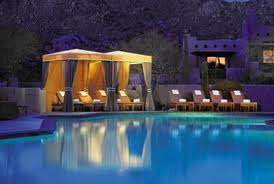 Guests of Four Seasons Resort Scottsdale at Troon North enjoy special privileges at both The Monument and The Pinnacle championship golf courses at Troon North Golf Club, as well as guest privileges at the Troon North Clubhouse.
World Class Day Spa and Spa Facilities
Inspired by the spirit and natural ingredients of the desert, the Spa at Troon North offers a full range of skin and body treatments including: body-wraps, scrubs, massages and facials.
Owners enjoy also enjoy use of the fitness center – complete with cardio equipment with flat-screen televisions, Nautilus machines, free-weights and even a movement studio.
Luxurious Pool
With forever-sunny skies, lounging poolside is a rite of passage in Scottsdale. At the Four Seasons Resort Scottsdale at Troon North timeshare vacation club owners enjoy crystal clear water, comfortable lounge chairs, poolside cabanas and even hospitality services including: chilled towels, ice water, Evian spritz, frozen fruit and other iced treats.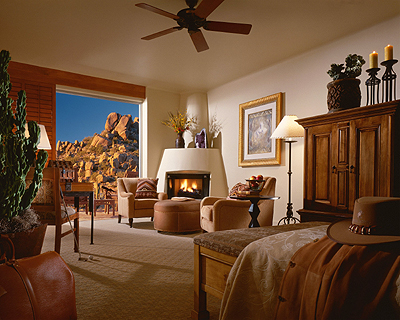 Onsite Organized Activities Including
Wine tasting seminar at renowned Talavera Restaurant.
Guided hikes along a private trail to the 3.5-mile (5.6-kilometre) path at Pinnacle Peak Park.
Children's activities including the Kids for all Seasons facility
Salsa and margarita demonstration at Saguaro Bloom restaurant.
Complimentary classes like: "Massage 101," "Meet the pastry chef" and "Stargazing."
Accommodations at Four Seasons Troon North
Designed to blend seamlessly with the Southwestern desert environment, accommodations at the Four Seasons Resort Scottsdale at Troon
North are decidedly opulent.
Capturing the spirit of the desert, the resort's styling elegantly reflects local culture and tradition with prints and textiles in desert-sunset hued palates.
The resort features 25 mostly one- or two-story adobe casitas playing host to 210 generously sized studio, one, two and three-bedroom villas.
Each unit features a gas burning fireplace, patio doors opening to a private landscaped terrace or balcony and stunning views of the desert grounds, and a spacious bathroom with deep soaking tub and separate glass-shower.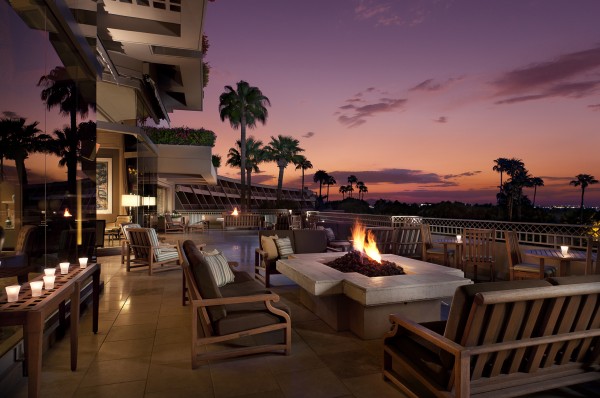 Many custom furnishings and handmade art featured is sourced from the local Huichol Indians. Other guest-room amenities include flat-screen televisions, electronic private bars, wireless internet access and mp3 docking stations.
Things to Do in Scottsdale
With more than 300 days of sunshine every year, Scottsdale is a haven for the outdoor enthusiast; yet the city's sophisticated charm makes it a uniquely cosmopolitan destination for fine dining, shopping and spa-experiences. Some local activities include:
Outdoor adventures like: hiking, horseback riding, rock climbing, canyoning, hot-air ballooning and cycling.
Golf!
Phoenix Zoo (rated one of the top 5 zoos for kids!)
Casino Arizona
Desert Botanical Garden
Frank Lloyd Wright's Taliesin West
Four Seasons timeshares are affiliated with Interval International. With their exceptionally high trade value, Four Seasons fractional ownership properties go a very long way in terms of II exchange.
If you would like more information about the Four Seasons Resort Scottsdale at Troon North, or if you would like to buy timeshare at this deluxe Four Seasons resort, Contact us today, toll free at (800) 985-9946, and see what our clients are raving about.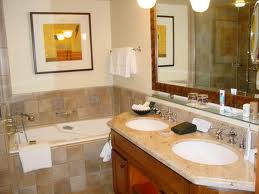 Timeshare Broker Sales is a licensed realtor and a BBB Accredited Business. We are a full service timeshare broker specializing in Four Seasons timeshare resales and rentals.
Whether you're looking to buy, sell or rent timeshare with Four Seasons Residence club, we're here to help.
Amenities:
On-Site · Air Conditioning (In Units) · Babysitting Referral · Bar/Cocktail Lounge · Car Rentals · Clubhouse · Cooking Facilities (In Units) · DVD or VCR (In Units) · Day Spa · Exercise Room, Equipped · Fireplace (In Units) · Laundry Facilities · Lock-Off · Restaurant · Sauna or Steam Room · Swimming Pool, Outdoors · Television (In Units) · Tennis · Wheelchair Accessible · Whirlpool Spa or Hot Tub
Nearby· Bicycle Trails · Entertainment, Live · Golf · Grocery/Convenience Store · Playground
Four Seasons Resort Scottsdale at Troon North
10650 East Crescent Moon Drive
Scottsdale, AZ 85262
480-513-5225