HGVC Valdoro Mountain Lodge Timeshare Resales and Rentals
Enjoy timeshare ownership in the heart of the Colorado Rockies at HGVC Valdoro Mountain Lodge! Timeshare Broker Sales is a resale specialist for HGVC timeshare
Valdoro Mountain Lodge, a Hilton Grand Vacations Club Resort, sits nestled at the base of the Breckenridge Ski Area, just blocks from historic Breckenridge. Located in the heart of the Rocky Mountains, Breckenridge is the oldest continuously occupied community in the Rockies. The Colorado town's whimsically Victorian Main Street (registered and preserved as a Historical District) couples all the charm and nostalgia of a hidden mountain town with a creative, modern culture of dining, entertainment and night life. 

Available Listings
No Active Listings Found. Not to worry. We can help!
Take advantage of our worldwide network of licensed brokers, and current owners. Let us go to work for you and find that perfect timeshare vacation property that you and your family and friends can enjoy for years to come. Why spend hours on the web sifting through ad sites, with prices all over the place. We know where to find it, and get the exact timeshare resale you are looking for. We have you covered start to close, so all you have to worry about is booking that flight ticket! Remember that Timeshare Broker Sales are timeshare specialists, licensed real estate brokers, and a BBB Accredited Business.
PLEASE CALL TOLL FREE: 800-985-9946 and we can help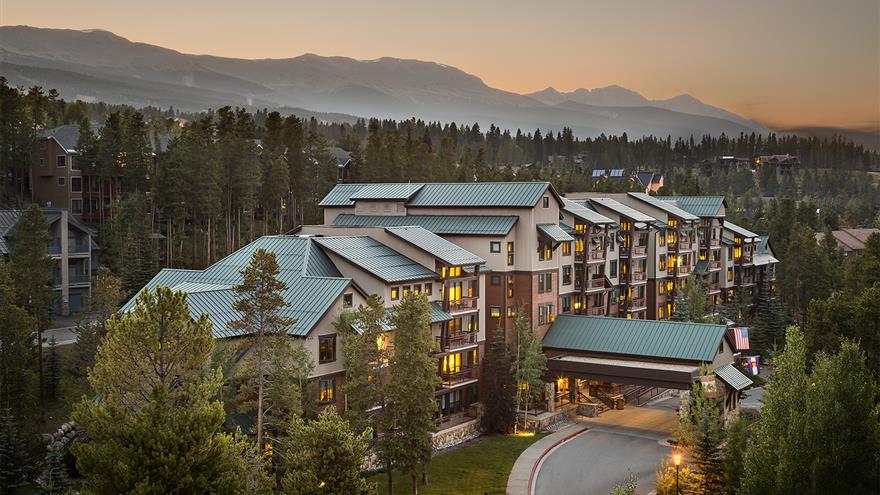 Luxurious Accommodations in the Heart of the Rockies
In keeping with Hilton Grand Vacatios Club's commitment to style, quality and excellence, Valdoro Mountain Lodge is a striking timeshare resort whose meticulous lodge-style design mirrors the rugged beauty of the Rockies.  Inside, you'll find spacious and luxuriously appointed one and two bedroom suites- each with a gas fireplace, fully-equipped kitchen, large common area and balcony for enjoying Breckenridge's breath-taking scenery.
Like all Hilton Grand Vacations Club timeshares, Valdoro Mountain Lodge is an RCI affiliated resort, offering timeshare owners ultimate usage flexibility; and allowing owners to trade their timeshare week for time at one of thousands of worldwide resorts. RCI has awarded Valdoro Mountain Lodge its Gold Crown Rating for excellence.
Despite its draw for skiers and riders, Breckenridge is a four-season town. Spring, summer and fall beckon the outdoor enthusiast and Breckenridge's ideal location just 1 ½ hours west of Denver means you'll always find something to do, even after the sun's gone down.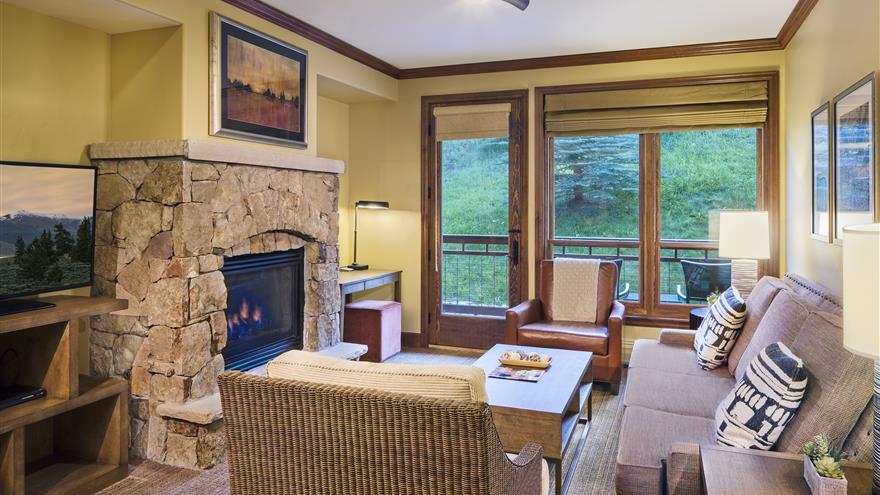 Skiing and Riding at Valdoro Mountain Lodge
In winter months, a typical day at Valdoro Mountain Lodge might go something like this: Awaken to the warmth and comfort of your spacious lodge-style accommodations and enjoy a hearty, home-cooked breakfast in your personal kitchen. Just steps outside your door, you'll discover some of the world's most highly-regarded skiing and riding while taking in the scenic views of the majestic Rocky Mountains. After a day on the slopes, relax by your fireplace or enjoy one of many onsite amenities including: two large outdoor whirlpools, a complete Spa and Fitness Center and a relaxing sauna perfect for warming up after a day on the slopes.
If you're up for it, hit the town to enjoy Breckenridge's friendly and exciting nightlife. You'll find great food, fun shows and a warm and welcoming culture. Ownership at this Colorado timeshare means you can return again and again, making historic Breckenridge your home away from home and earning your stripes on some of the country's most challenging and exciting slopes.
Experience the Great Outdoors with Valdoro Mountain Lodge Resales
During warmer months, a Valdoro Mountain Lodge timeshare might mean a day spent basking in the glow of Mother Nature. Popular activities include: hiking and horseback riding through the scenic Rocky Mountains, whitewater rafting, fishing and fly-fishing and golfing. Relax after a day in the sun with a dip in the heated outdoor or indoor pool, or enjoy an evening of pampering at the full service spa or private couples treatments. And your close proximity to Denver means there's always time for a night in the city.
A Valdoro Mountain Lodge timeshare allows you and your family to experience the natural splendor of Breckenridge year after year; making this beautiful and historic locale your home away from home. Best of all, you can save thousands on your Hilton Grand Vacation Club timeshare when you purchase it resale rather than from the resort.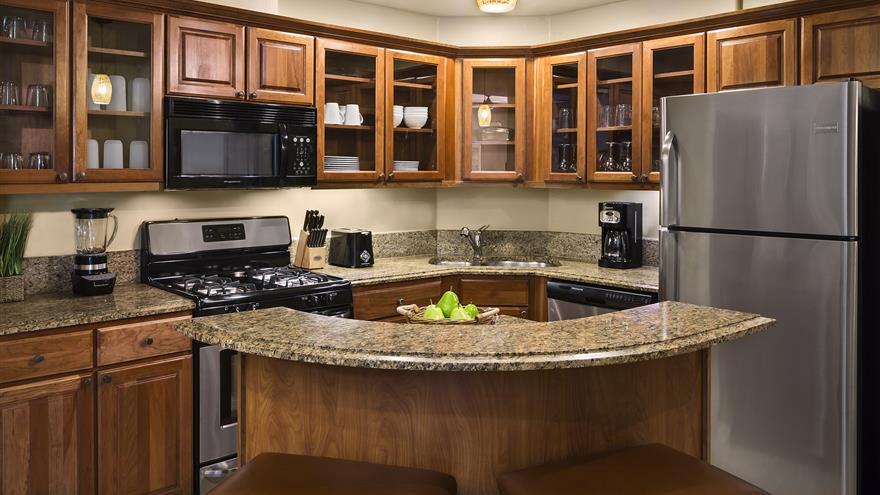 Buy Hilton Timeshares Resale and Save Thousands
Buying timeshare resale simply means you're buying directly from a previous owner. Resort developers have a lot of overhead. Their marketing fees and often extravagant profit margins account for the drastic difference (up to 70%) between purchasing timeshare on the resale market, or purchasing it retail. With resale, there's none of that overhead to account for, which means you save thousands on a lifetime of vacations for you and your family.
Of course, with so many timeshares and resellers to choose from, it helps to have someone on your side. Timeshare Broker Sales is a licensed REALTOR® and a BBB Accredited Business specializing in timeshare resales and rentals.
Additionally, Timeshare Broker Sales is a specialist for HGVC Timeshare Resales; meaning we have insider knowledge and invaluable relationships that afford us the ability to find you the best possible deal on Hilton timeshare resales and rentals. Browse our inventory of Hilton timeshares for sale or timeshares for rent today; then let us help you save thousands on the purchase of your Hilton timeshare.
Need to sell timeshare at Valdoro Mountain Lodge? Our knowledgeable team of experts can help you through every step of the process. Call toll free (800) 985-9946 today or contact us for more information on buying, selling or renting Hilton timeshare.
Amenities
On-Site Amenities
Pool (Indoor/Outdoor)
Whirlpool/Hot Tub
Spa
Games Room
Fireplace
Handicapped Accessible
Elevator
Laundry
Unit Amenities
Telephone (All Units)
Kitchen (All Units, Full)
Fireplace – Unit (All Units)
Carpet (All Units)
Washer/Dryer (Some Units)
Dishwasher (All Units)
Microwave (All Units)
Other Amenities
Lake (9.0 miles)
Boating (9.0 miles)
Fishing (Nearby)
Cross-Country Skiing (1.0 miles)
Downhill Skiing (Nearby)
Ski School (Nearby)
Golf (4.0 miles)
Tennis (1.0 miles)
Racquetball (1.0 miles)
Horseback Riding (1.0 miles)
Exercise Equipment (1.0 miles)
Health Club (1.0 miles)
Sauna (1.0 miles)
Playground (Nearby)
Live Entertainment (Nearby)
Auto Rental (Nearby)
Grocery (1.0 miles)
Hairdresser (Nearby)
Medical Facility (Nearby)
Restaurant (Nearby)
Shopping (Nearby)
Conference Facilities (Nearby)
Valdoro Mountain Lodge (RCI#6388)
500 Village Road
Breckenridge, CO  80424
USA
970-453-4880