Hilton Grand Vacations Club at Hilton Hawaiian Village – the Kalia Tower
Make the Splendor of Oahu your home away from home with a luxurious timeshare at HGVC's Hilton Hawaiian Village – The Kalia Tower
Timeshare Broker Sales is Authorized as a Preferred Broker for Hilton Grand Vacations Club, so call us today and save! 
Rich in Hawaiian culture and natural ambiance, the Kalia tower boasts a premier location within the renowned HGVC Hilton Hawaiian Village complex and offers guests immediate access to the abundant treasures of the 20-acre property.

Available Listings
No Active Listings Found. Not to worry. We can help!
Take advantage of our worldwide network of licensed brokers, and current owners. Let us go to work for you and find that perfect timeshare vacation property that you and your family and friends can enjoy for years to come. Why spend hours on the web sifting through ad sites, with prices all over the place. We know where to find it, and get the exact timeshare resale you are looking for. We have you covered start to close, so all you have to worry about is booking that flight ticket! Remember that Timeshare Broker Sales are timeshare specialists, licensed real estate brokers, and a BBB Accredited Business.
PLEASE CALL TOLL FREE: 800-985-9946 and we can help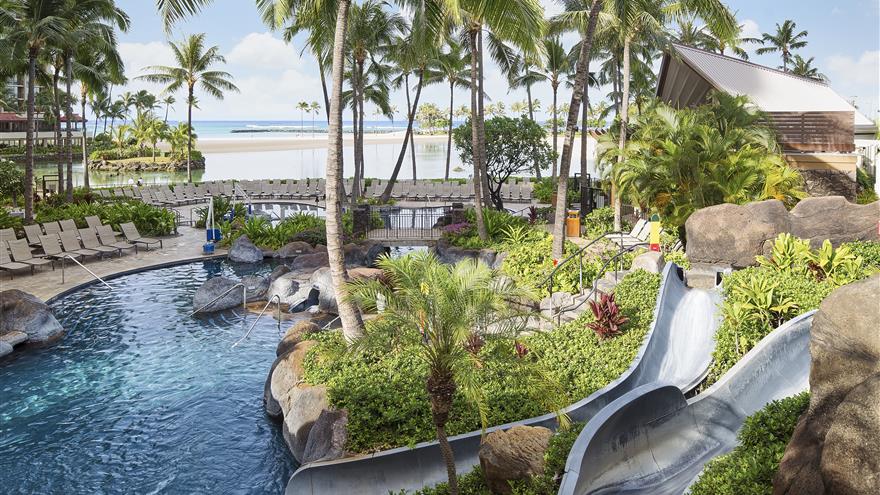 Here, owners enjoy stunning mountain or ocean views and prime location on Waikiki's best beach, where Hilton timeshare owners can catch some rays or take a dip in the crystal blue waters.
Onsite Amenities at Hilton Hawaiian Village – Kalia Tower
At this Hilton timeshare in Hawaii, you'll never want for something indulgent or exciting to do. Onsite amenities include:
Mandara Spa
Kuke Khanamoku salt-water lagoon
Fitness center & sports-courts
More than 20 restaurants and lounges
More than 90 shops and boutiques
Then of course there's Paradise Pool, which deserves mention of it's own. The unique freeform design offers poolside loungers privacy while sunbathing, reading, or napping. Paradise pool features:
Two-tiered freshwater swimming pools bordered by lava-rock formations
Winding streams with wooden bridges and lush, tropical landscaping
Beachfront SUPER pool with an adjacent bar
Three waterfalls
Two heated spas
Four water slides, including a 77-foot lava tube slide
Accommodations at Hilton Hawaiian Village – Kalia Tower
The Kalia Tower at Hilton Hawaiian Village offers one and two bedroom suites complete with:
Full kitchens
Master suites with king sized beds
Spacious bathrooms (some with spa tubs)
Multiple flat screen TVs
Washer and dryer
Balcony with ocean views

Things to do Nearby
From SCUBA diving and snorkeling to the fantastically fun Atlantis Submarine Tours, the underwater views of the Hawaiian waters are simply stunning.
If you prefer to stay on top of the water, you may want to try your hand at windsurfing, surf paddling, kayaking or canoeing. If you're up to it, skydiving offers a view of the island like no other.
And when you're ready to dry off and head for land, a number of championship golf courses are at your disposal. Finally, for dinner, drinks and entertainment and shopping off-site, you're just five minutes from the heart of the city.
Timeshare Broker Sales are Preferred Brokers for 
Hilton Hawaiian Village is affiliated with RCI. If you would like more information about this great Hilton timeshare in Hawaii, or to make an offer, please contact us today Toll Free: 800-985-9946.
Timeshare Broker Sales is a licensed timeshare broker and a BBB accredited business. We are members of the LTRBA and an ARDA recommended timeshare reseller. Give us a call today to buy, rent or sell timeshare at the Hilton Hawaiian Village by HGVC.
On-Site Amenities
Beach
Pool
Health Club
Sauna
Whirlpool/Hot Tub
Playground
Live Entertainment
Handicapped Accessible
Elevator
Auto Rental
Hairdresser
Laundry
Medical Facility
Unit Amenities
Telephone (All Units)
Kitchen (All Units, Full)
Air Conditioning (All Units)
Carpet (All Units)
Dishwasher (All Units)
Microwave (All Units)
Other Amenities
Waterskiing (Nearby)
Windsurfing (Nearby)
Fishing (Nearby)
Golf (Nearby)
Tennis (Nearby)
Grocery (Nearby)
Hilton Grand Vacations Club at Hilton Hawaiian Village – The Kalia Tower (RCI#7499)
2005 Kalia Road
Honolulu, HI  96815
Oahu,  USA