Hilton Timeshares in Hawaii
Buy Hilton Vacation Club Timeshare on the Big Island or Oahu
It goes without saying that Hawaii is true vacation paradise. Lush tropical landscapes, rugged volcanic terrain and warm turquoise waters are just a few of the reasons millions of vacationers flock to the shores of the "Aloha State" each and every year. 
But it's not just breathtaking natural surroundings that place Hawaii timeshares among the most popular vacation ownership options in the world – it's also the quality of resorts. That's where Hilton Grand Vacations Club comes in. Renowned for their luxe amenities and services, Hilton timeshares in Hawaii pepper the beaches of the Big Island and famous Oahu. The following Hilton time shares in Hawaii offer an excellent alternative to high-priced island accommodations.
Hilton Timeshares on the Big Island
The Big Island, also known as Hawaii Island, is the youngest, largest and most bio-diverse of all the Hawaiian Islands. Here, everything from lush tropical rain forests to breathtaking black sand beaches provide a stunning backdrop for massive mountains (including Maunakea – the tallest sea mountain in the world) and the breathtaking panoramas of Hawaii Volcanoes National Park.
Of course the Big Island is also home to the pristine beaches, world class golf and laid-back culture that Hawaii is known for. Hilton Hawaii Big Island timeshares are your ticket to luxurious tropical vacations, year after year. Buy timeshare at the following Hilton timeshares on the Big Island to make this breathtaking island paradise your home away from home.
Hilton Grand Vacations Club at Waikoloa Beach Resort
Ideally located on the Big Island's beautiful Kohala Coast, Hilton Grand Vacations Club at Waikoloa Beach Resort offers lush resort grounds comprised of winding pathways, bright tropical gardens and rolling waterfalls. This deluxe Hilton timeshare also offers two swimming pools, a whirlpool spa and supervised children's recreation – making it an ideal vacation property for families.
King's Land by Hilton Grand Vacations Club
King's Land by HGVC is set against the turquoise waters and ancient volcanoes of the Big Island's Kohala Coast. In addition to exclusive beach access, Hilton timeshare owners at King's Land enjoy a host of luxe amenities, including use of the resort's deluxe recreation area which sits nestled amid real lava rocks and bubbling waterfalls and includes: a lazy river pool, an adult pool, a family pool, a sand-bottomed kid's pool, four whirlpool spas, two water-slides, a sand volleyball court and a fully-equipped indoor fitness center.
The Bay Club at Waikoloa Beach Resort
Resting on the Kohala Coast of Hawaii's Big Island, the Bay Club at Waikoloa Beach Resort is a well-appointed timeshare resort managed by Hilton Grand Vacations Club. Encircled by ancient volcanoes and nestled between two championship golf-courses, this Hilton vacation ownership property is ideally situated for enjoying all the natural splendor the Kohala Coast has to offer.
Hilton Timeshares in Oahu
Oahu hosts both Hawaii's state capital of Honolulu and world famous Waikiki. With glittering city-life and verdant tropical landscapes, Oahu boasts the perfect combination of chic urban pleasures and rugged natural beauty.
With Hilton in Oahu, vacationers can swim, snorkel or kayak the warm-waters of Waikiki, hike to the peak of famous Nuuanu Pali Lookout, dine at a five-diamond restaurant then dance until dawn. With so much to see and do, it's no wonder Oahu is often fondly called the "Heart of Hawaii."
Hilton Hawaiian Village® Waikiki Beach Resort is the only true resort property in Waikiki and offers three timeshare units: the Grand Waikikian, the Kalia Tower and the Lagoon Tower.
Hilton Grand Vacations Club at Hilton Hawaiian Village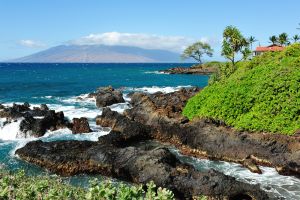 Hilton Hawaiian Village Resort is a 22 acre oceanfront resort located on Waikiki's widest stretch of beach in Honolulu.
Here owners enjoy exclusive beach access and myriad opulent amenities, including Paradise Pool – an aquatic playground consisting of a heated, two-tiered freshwater swimming pool bordered by lava-rock formations, winding streams, wooden bridges and lush, tropical landscaping. The pool features three waterfalls, two heated spas and four water slides, including a 77-foot lava tube slide.
At this Hilton Resort, Hawaii's Waikiki is your playground. Buy timeshare at any of the following Hilton timeshares in Oahu to experience this world-class resort for yourself.
Grand Waikikian by Hilton Grand Vacations Club
Hilton Grand Vacations Club at Hilton Hawaiian Village – Kalia Tower
Hilton Grand Vacations Club at Hilton Hawaiian Village – Lagoon Tower
Questions About Hilton Vacation Clubs in Hawaii?
If you have questions about any of the Hawaii Hilton timeshares listed above, please don't hesitate to contact us, toll free at 800-985-9946 today. Timeshare Broker Sales is a licensed timeshare broker, a member of the LTRBA and a BBB accredited business.
Whether you're looking for great deals on Hilton Grand Vacations Hawaii timeshare, or you've got a Hilton timeshare in Hawaii that you're looking to sell, we're here to help. Our licensed real-estate brokers are world leaders in Hilton timeshare resales. We never charge an upfront fee for our services, so don't wait – give us a call today and see what our clients are raving about!