Hilton Parc Soleil Timeshare Resales and Rentals
Enjoy  timeshare ownership in the heart of Orlando at Parc Soleil by Hilton Grand Vacations Club
Are you looking to buy Florida timeshare? Sprawled across 52 acres of exquisitely landscaped grounds, Hilton Grand Vacations Club (HGVC) at Parc Soleil rests at the center of Orlando's developing "Midtown" – a centrally located 214-acre project that will offer visitors immediate access to an upscale collection of boutiques and restaurants. Opened in early 2009, "Parc Soleil" is set to become the most expansive HGVC timeshare resort in Florida. 

Available Listings
8 listings

Price Range

1,000 – 7,000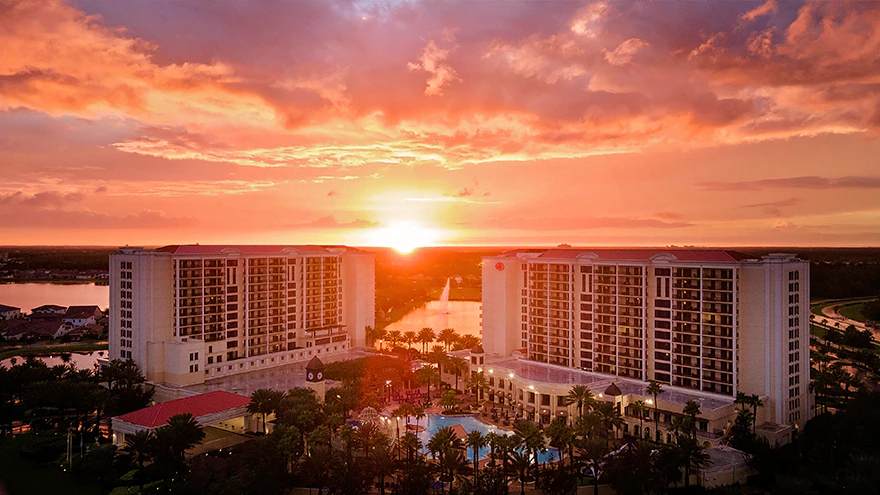 Convenient Location and Luxurious Accommodations
Ideally located in the heart or Orlando, HGVC at Parc Soleil is convenient to a number of the city's most famous attractions including: Walt Disney World®, Universal Orlando®, SeaWorld® Orlando, Aquatica®, more than 94 championship golf-courses, the Orange County Convention Center and the Orlando International Airport. This Mediterranean inspired Orlando timeshare is an ideal locale for a romantic escape, fun family vacation or business trip.
In keeping with Hilton Grand Vacations Club's dedication to quality, style and excellence "Parc Soleil" is a tastefully decorated and centrally located timeshare resort. Inside, you'll find spacious and luxuriously appointed one, two and three bedroom suites – each with private balconies, fully equipped kitchens, large common areas, complimentary high-speed wireless Internet access, Cable TV, air-conditioning and even a washer/dryer. A Hilton timeshare resale at Parc Soleil can truly be your superbly appointed home away from home.
Outside, the resort boasts a large swimming pool with whirlpool spa, poolside bar and grill Cafe Soleil, scenic walking/jogging path, tennis courts, exercise facilities and playground. Parc Soleil Suites by Hilton Grand Vacation Club even offers shuttles to nearby theme parks.
In addition to its ideal location close to Orlando's family-friendly attractions like Walt Disney World® and Universal Orlando,® HGVC at Parc Soleil is conveniently located within driving distance to regional Florida attractions including: Busch Gardens®, Kennedy Space Center®, Tampa Bay and the beaches of the Atlantic and Gulf coasts.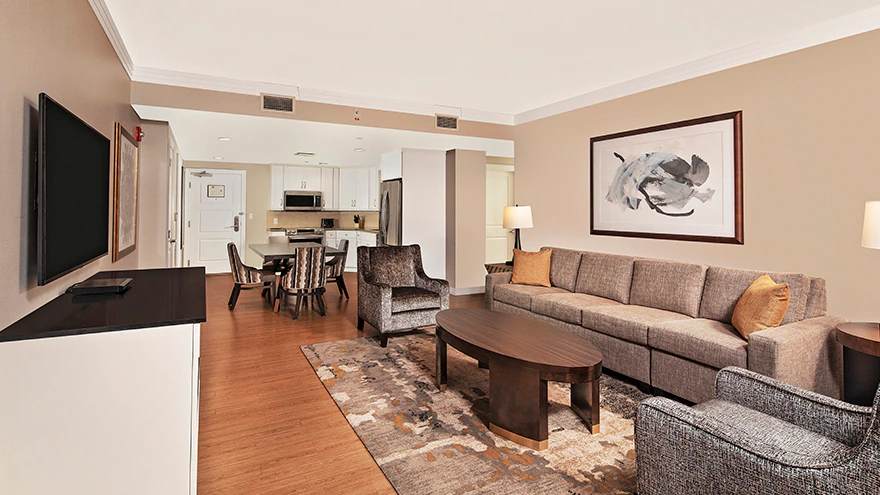 Flexible and Affordable Worldwide Travel Opportunities
Like all Hilton Grand Vacations Club timeshares, Parc Soleil is an RCI affiliated resort, offering members ultimate travel flexibility by affording owners the option to trade their timeshare week at their "home resort" for time at one of thousands of affiliated resorts worldwide. Resort Condominiums International, (RCI) has awarded Hilton at Parc Soleil its Gold Crown Rating for excellence.
A HGVC at Parc Soleil timeshare resale allows you and your family to experience the beloved family friendly attractions of Orlando year after year while affording you the flexibility to mix it up as you see fit. With RCI, the world's leading timeshare exchange company; your Parc Soleil timeshare can transport you to one of more than 5,000 resorts in some of the world's most highly-desirable locations.  A Hilton timeshare resale opens up a world of vacation possibilities for a fraction of the cost of buying timeshare retail.
For more information about this great vacation ownership opportunity, or to learn more about Hilton timeshares in Orlando, please contact us today.
Timeshare Broker Sales is a licensed REALTOR® and a BBB Accredited Business specializing in timeshare resales and rentals. Most importantly, we are a name you can trust. Our hands-on approach, extensive experience and genuine passion for the industry will help you save thousands (up to 70%) off resort developer prices when you buy timeshare resale. Call toll free (800) 985-9946 now to speak with one of our licensed and professional timeshare brokers.
Timeshare Broker Sales is a specialist for HGVC Timeshare Resales; meaning we have insider knowledge and valuable relationships that afford us the ability to secure you with the best possible deal on Hilton timeshare resales and rentals. Browse our inventory of Hilton timeshares for sale or timeshares for rent today; then let us help you save thousands on the purchase of your Hilton timeshare.
Need to sell timeshare at Hilton at Parc Soleil? Our knowledgeable team of experts can help you through every step of the process. We've helped thousands of owners sell Hilton timeshare safely. Best of all, with timeshare Broker Sales, there are never any upfront fees to list your timeshare for sale. Call toll free (800) 985-9946 today for more information on buying, selling or renting Hilton timeshare.
On-Site Amenities
Pool
Children's Pool
Tennis
Whirlpool/Hot Tub
Playground
Laundry
Restaurant
Snack Bar
Unit Amenities
Telephone (All Units)
Kitchen (All Units, Partial/Full)
Air Conditioning (All Units)
Carpet (Some Units)
Washer/Dryer (Some Units)
Dishwasher (Some Units)
Microwave (All Units)
Other Amenities
Waterskiing (4.0 miles)
Boating (11.0 miles)
Fishing (11.0 miles)
Golf (3.0 miles)
Casino (65.0 miles)
Auto Rental (12.0 miles)
Grocery (4.0 miles)
Medical Facility (2.0 miles)
Shopping (6.0 miles)
Parc Soleil by Hilton Grand Vacations Club (RCI#7979)
11272 Desforges Avenue
Orlando, FL  32836
USA
407-465-4000