West 57th Street by Hilton Grand Vacations Club
Buy Timeshare Resale in the heart of Manhattan with West 57th Street by HGVC
Located in the heart of Manhattan, just minutes from the city's most famous and beloved attractions, West 57th Street by Hilton Grand Vacations Club is the epitome of modern elegance. This twenty-eight story Hilton timeshare is a cosmopolitan blend of comfort and convenience, placing owners in the center of New York City's beloved midtown.
With ideal location between 6th and 7th Avenues in Manhattan's prestigious Plaza District, West 57th Street by Hilton Grand Vacations Club is the perfect amalgamation of New York's bustling atmosphere and Hilton's discerning style. Just steps from the building's glassy facade owners have easy access to Central Park, Carnegie Hall, the Museum of Modern Art, Fifth Avenue, Broadway, Rockefeller Center and the Empire State Building.

Available Listings
13 listings

Price Range

1,900 – 30,000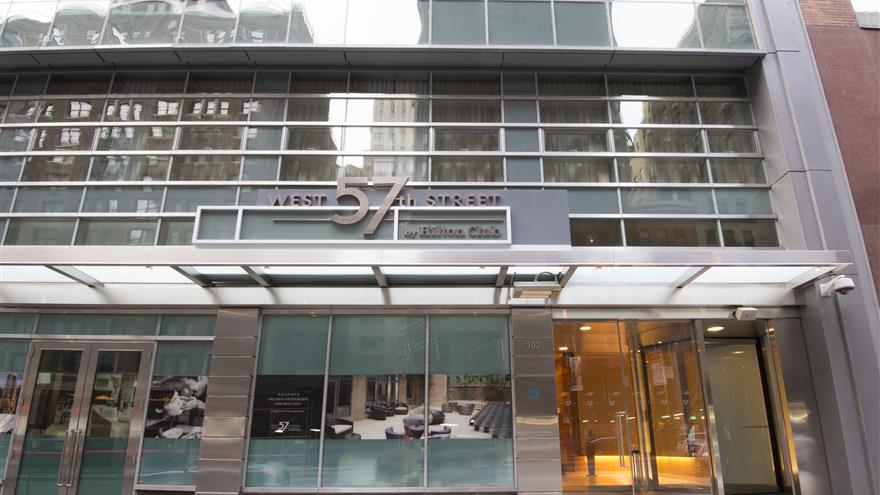 West 57th Street Onsite Amenities & Service
Onsite, Hilton offers a number of luxurious and convenient amenities to make your stay in the world's most fascinating city as comfortable as possible. The property offers a private lobby with onsite doorman as well as expert concierge services for helping owners and guests to easily navigate New York's tangle of streets, restaurants and attractions. Owners can relax and refresh in the elegant Owners Lounge and even enjoy valet laundry service.
West 57th Street also offers a state-of-the-art fitness center. Located on the ground floor, the award-winning Merge Spa (with its harmonious blend of organic natural ingredients and modern scientific techniques) is sure to impress. West 57th Street will even deliver menu items from selected neighborhood eateries, allowing owners to sample a variety of authentic cuisine.
Accommodations at West 57th Street by HGVC
This first-class Hilton timeshare offers 161 studios and 1-bedroom suites outfitted with elegant modern furnishings, sweeping floor-to-ceiling windows and bedding and furniture designed to soothe both the body and mind.
Luxurious linens and materials in a palette of warm, natural colors provide the ultimate in comfort, while spacious bathrooms include a large shower and vanity. Some suites even feature a sculptural tub perched along the windows with a skyline view of Manhattan.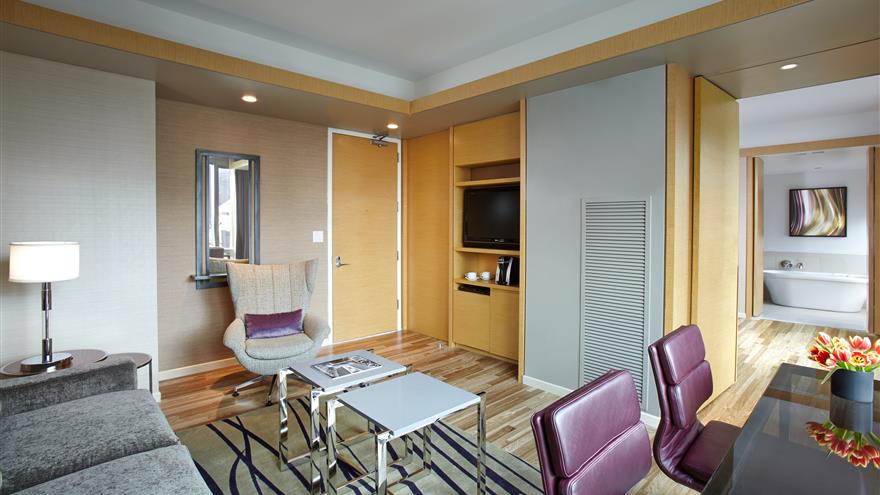 Nearby West 57th Street
We don't need to tell you about all the wonderful ways to enjoy breathtaking New York City. However, this HGVC timeshare is ideally located within easy walking distance to some of Manhattan's most beloved attractions. Below, you'll find a list of some favorites, located just blocks from this prestigious Hilton timeshare:
5th Avenue Shopping (1 block)
Carnegie Hall (1 block)
Central Park (2 blocks)
MoMA (4 blocks)
Lincoln Center (4 blocks)
Radio City Music Hall (6 blocks)
Broadway (6 blocks)
Rockefeller Center (8 blocks)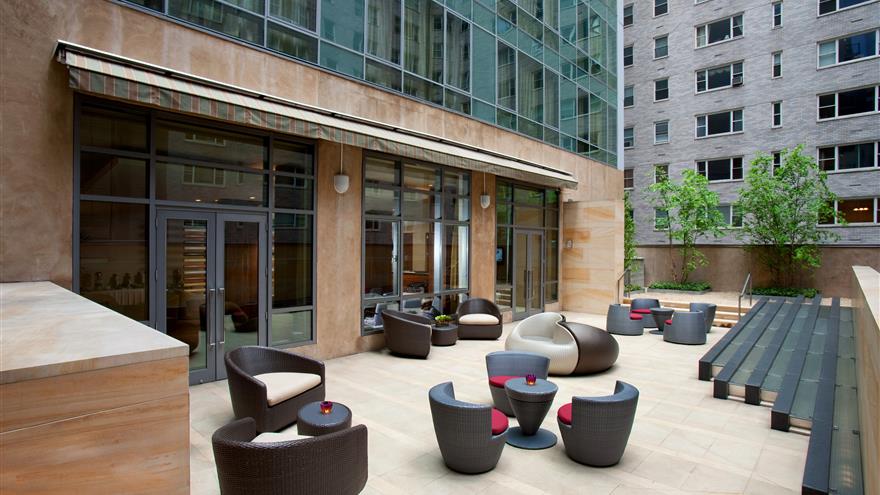 Hilton offers Flexible and Affordable Worldwide Travel Opportunities
Like all HGVC timeshares, West 57th Street by HGVC is an RCI affiliated resort, offering members ultimate travel flexibility by affording owners the option to trade their time for time at one of thousands of affiliated resorts worldwide. A Hilton timeshare resale opens up a world of vacation possibilities for a fraction of the cost of buying retail.
For more information about this great vacation ownership opportunity, or to learn more about Hilton timeshares in New York, please contact us today. 
Timeshare Broker Sales Can Help You Save Thousands
Timeshare Broker Sales is a licensed REALTOR® and a BBB Accredited Business specializing in Hilton timeshare resales and rentals. Most importantly, we are a name you can trust. Our hands-on approach, extensive experience and genuine passion for the industry will help you save thousands off resort developer prices.
Call us toll free (800) 985-9946 now to speak with one of our licensed and professional timeshare brokers, we'll walk you through some timeshare basics and help you determine the best course of action for purchasing your vacation property. You may also want to check out our buyer FAQ, if you have any questions about timeshare resales. 
Timeshare Broker Sales is a broker for HGVC Timeshare Resales; meaning our timeshare resellers have insider knowledge and valuable relationships that afford us the ability to secure you with the best possible deal on Hilton timeshare resales and rentals. Browse our inventory of Hilton timeshares for sale or timeshare rentals today; then let us help you save thousands on the purchase of your West 57th Street by HGVC timeshare.
Amenities:
On-Site Amenities
Exercise Equipment
Handicapped Accessible
Elevator
Unit Amenities
Telephone (All Units)
Air Conditioning (All Units)
Other Amenities
Tennis (Nearby)
Racquetball (Nearby)
Health Club (Nearby)
Sauna (Nearby)
Casino (120.0 miles)
Playground (Nearby)
Live Entertainment (Nearby)
Auto Rental (Nearby)
Grocery (Nearby)
Laundry (Nearby)
Medical Facility (Nearby)
Restaurant (Nearby)
Shopping (Nearby)